FRANCIS BACON: WAR, TrAUma and ART
Me, Myself & I. Self-portraits.
Francis Bacon, painted disturbing images that were raw, they provoked anxiety and alienation this was a direct response to his upbringing. Bacon was was born in Dublin on 28 October 1909, the second of five children, his father was an intolerant authoritarian, a horse trainer and major in the British army.There were violent clashes with his father over his sexuality, when Bacon was caught trying on women's clothing, he had to leave home at sixteen to live with an uncle in Berlin. Post- war Berlin in 1920 was an unstable city filled with radical social and political ideas and low morals.
wAR
Three Studies for Figures at the Base of a Crucifixion', 1944 (oil on board)
In 1928, Bacon moved to Paris where he saw an exhibition of Picasso's work, this moved him to become an artist. Bacon is quoted as saying, "Picasso is the reason why I paint - he is the father figure, who gave me the wish to paint". His early work was Surrealist abstraction, but it failed to communicate what he was feeling - so he destroyed it.
In 1944 Francis Bacon found a way to communicate, he painted and exhibited the triptych,'Three Studies for Figures at the Base of a Crucifixion'. The triptych, a painting composed of three separate panels, was a devotional format that was first used in Christian altarpieces. In 1944 exhibiting such disturbing secular subjects in a religious format could only be viewed as a calculated act that would amplify the shock value and illicit a response from people who viewed it.
The response, the work shocked the general public and was met with wide criticism from the critics for its horrific imagery. But taking in consideration the emerging details of the war, Bacon's work reflected the fear and loathing for the unimaginable atrocities of the Holocaust that came to light at the end of World War Two and the underlying pathos of the the general population.
The artist's trauma leaks into the ART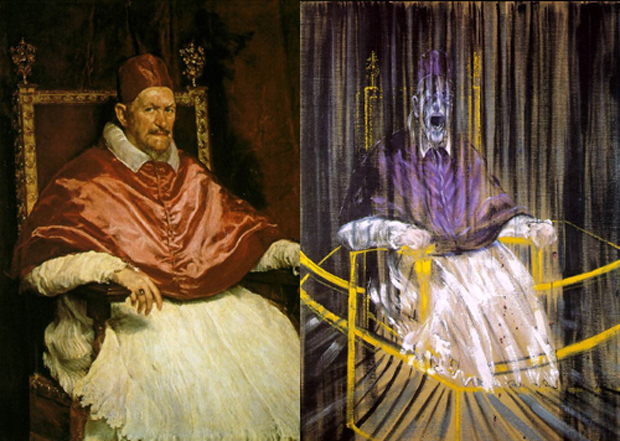 Diego Velazquez: Pope Innocent X 1650 Study after Velazquez's Portrait of Pope Innocent X: 1953 (oil on canvas) - Francis Bacon
The state of Bacon's mind is evident through out all of his work - it attracts and repels at the same time. People look and linger despite becoming extremely uncomfortable and disturbed. Francis Bacon captured the true undercurrent of post war Europe and went on to became a preeminent iconic artist whose influence is still touching generations even in our day.
WHICH LEADS US TO ---
PINK FLOYD THE WALL
It is evident that the work of Francis Bacon greatly influenced the art direction of PINK FLOYD THE WALL.
The rock opera "Pink Floyd the Wall," first performed in 1978 --- this isn't the most fun to listen to and some viewers don't find it too much fun to watch, but the 1982 film is without question the best of all serious fiction films devoted to rock. Seeing it now in more timid times, it looks more daring than in did in 1982, when I saw it at Cannes.
Roger Ebert / February 24, 2010
WHICH ENDS US AT THIS THOUGHT---
Artist's work that stays in our mind has an underlying capacity to disturb us - to the right degree. This is the work that stands the test of time.
Our recommendation for an artist to add to your collection, MARCUS ANTONIUS JANSEN -- A DISTURBING URBAN STORYTELLER.