A Weight of Clouds by DANIEL MINTER

Daniel Minter's art work is a study of memory. The many ways in which memory is embedded into our past, present and future. It is the interconnection of time that contains the essence of what memory has left behind. These concepts are the inspiration for Daniel Minter's paintings and sculpture.
Artist: Arbe Ara Berberyan Title: American Gothic
Medium: Oil on Canvas Size: 40″ x 60″ | Framed: 47″ x 67.5
Born in 1958 Yerevan,Armenia Soviet Armenia - Ara Berberyan had his first Exhibition at the age of twelve. His paintings were sent by the U.S.S.R.to France, Italy, Canada, and the United States on an international Tour, called " The world by Children's Eyes."
Artist: Kerry James Marshall: Untitled
Marshall frequently depicts his figures in an extreme opaque, black color, which stylizes their appearance while being a literal and rhetorical reference to the term black and its diametric opposition to the white "mainstream.
Boy with Hands Folded by Ben Enwonwu (Nigeria, 1921-1994)
Enwonwu, Benedict (Ben) Chukwukadibia (1921 – 1994) Artist, Painter and Sculptor, he is described as the most renowned Nigerian Artist of the 20th Century. In 1956 he became even more famous when he was commissioned by the British Government to do a portrait of Queen Elizabeth II.
TED HEAD watercolor
Automythography: Parade by Mequitta Ahuja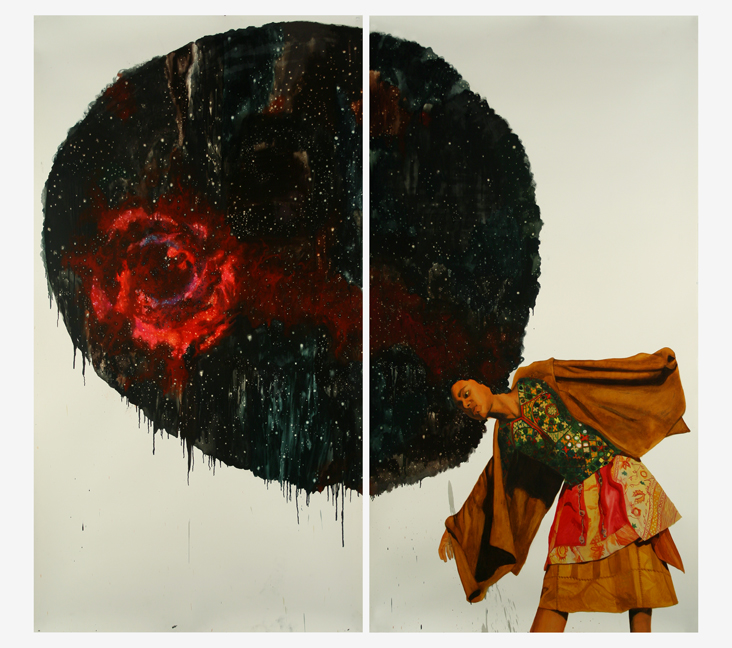 Automythography: Parade, Colored Pencil on Tracing Paper,
Spark,by Mequitta Ahuja 2009
Waxy Chalk on Paper 50"X114"
Fount by Mequitta Ahuja
2009 Waxy Chalk on Paper 36"X156"
ARTIST: Albert Chong (b. 1958)- Portrait of the Artist as a Victim of Colonial Mentality
Photo transfer on marble tiles 48 x 48 in.
I don't think you can say anything meaningful with abstraction, period. There's no way of doing the narrative; it needs representation to communicate — Albert Chong
Artist:Ransome Stanley - RST 105 ROOM, 2012
oil on canvas - 180 x 260 cm - Glimpses of worn old fences, crumbling walls and cracked wooden boards create the layering of urban graffiti.
Artist:Ransome Stanley - JACK, 2013
works on paper mixed media on paper 40 x 30 cm - Born in 1953 in London, to a Nigerian father and a German mother,
Artist:Ransome Stanley - tricky · 2013

oil on canvas 160 x 140 cm - Stanly belongs to a new artistic movement,"afropolitanism" since the mid-1990s, a "new African art speech".